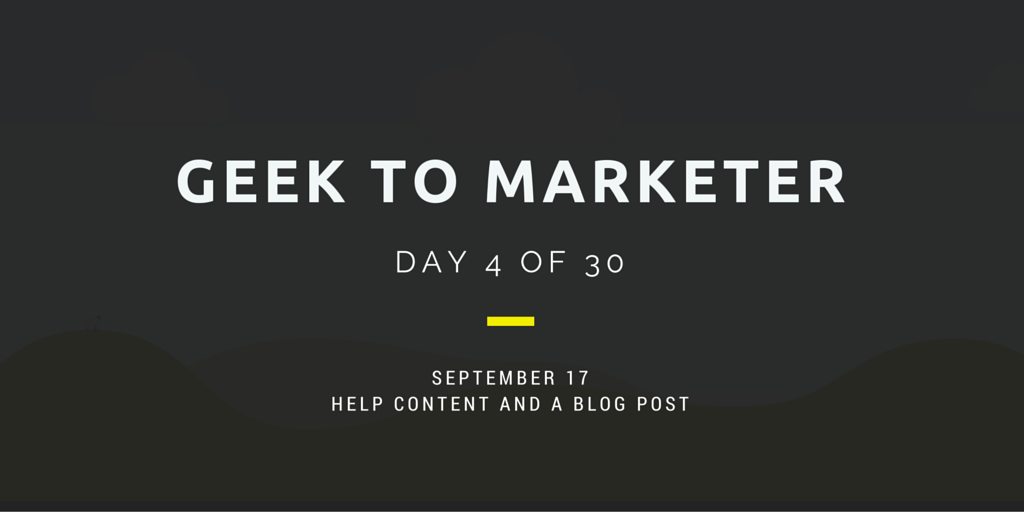 This post is day 4 in my 30 day marketing challenge. Find out what that's all about in the first post.
Like I mentioned yesterday, I did have more work to do in authoring help pages. Took me the rest of the day after my post yesterday and then some more this morning. But it's finished and it's deployed. That deployment included the new welcome email as well.
Note on deployments... we've got a great ansible script that does a rolling upgrade of our site across the app servers that results in zero downtime. That combined with a set of automated tests we developed has made the fear of deploying vanish. Some days we'll deploy several times throughout the day without too much worrying. If you don't have that capability, spend some time developing it, it will pay off.
So now that we have something out there, it's time to think about ways of tracking it (ok, it was time to do that before deploying but better late than never). A big problem we have is lack of engagement after a user signs up. In Mixpanel, we track that engagement and can correlate it to sign-up date. Here's a sample report: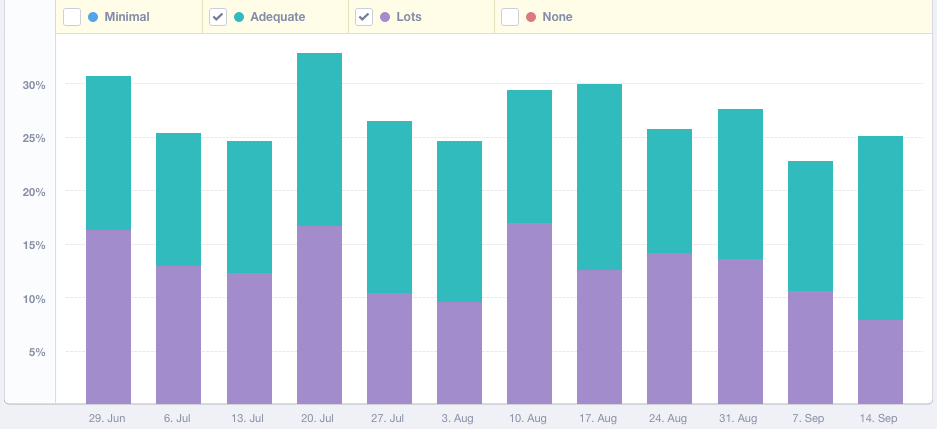 Here's how to read it... For the users who signed up in the week of September 14th, slightly more than 25% of them hit the "lots" or "adequate" levels of activity.
We bucket users into 4 categories based on how much activity they generate in their newsfeed.
None - they didn't do anything
Minimal - they did a couple things
Adequate - They used the product for a while and experienced several features
Lots - They probably did some real work in the product
That graph is showing just adequate + lots of activity. You can see we're pretty consistent between 20% and 30% of people who sign up fall in those categories.
An important note... as customers age, they will advance in categories if they are actively using the product. So our numbers for this week's signups will go up if we look again next week. That's great. We want to know that. But that does mean the changes we deployed today could influence people who signed up in past weeks and we need to keep that in mind. Since our trial is 30 days long, we can safely compare it to people who signed up at least 30 days ago.
This will be one of our key performance indicators for the type of marketing we've focused on in this first week and I'll be coming back to these stats often.
Now, the next thing I need to track is how interacting with this new getting started guide influences the eventual purchase decision. I track a mixpanel event when people view the page, and later I'll use their funnel analysis to see the follow through to purchase.
We also deployed that new welcome message, so I'll track open/click rates vs. the old one. We use mandrillapp for that, and here's our past performance for that email:

To round out the day, I also wrote a new blog post on a ScrumDo feature that we deployed a month or two ago and never got around to announcing or explaining to anyone (oops!)